New Delhi, 5th January 2023: Over 6000 people attended and observed the moon along with other visible planets at India gate from 6th to 8th January. The city people were made aware about astronomy and science through engaging activities like Astro-Talk, Storytelling, Sky watch, exhibitions along with engaging quizzes.
Realizing the importance of the awe-inspiring impact of astronomy on human minds and its ability to generate a novel pathway for employment and revenue, SPACE collaborated with the National Science Centre, Ministry of Culture and Nehru Planetarium, New Delhi for the Astro Night Sky Tourism, at the India Gate Lawns, Kartavya Path, from January 6 to 8, 2023, under the banner of Azadi Ka Amrit Mahotsav. The event was inaugurated by Shri Arjun Ram Meghwal, Minister of State for Culture.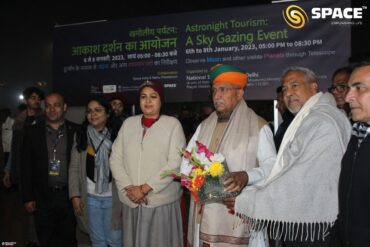 Different kinds of telescopes were set up for public to observe Moon, Venus, Mars, Jupiter, and Saturn at different magnifications. Continuous live feeding of the moon and the visible planets was also projected on a large screen for public viewing through an automated high-magnification telescope. People were mesmerized to see the celestial bodies in action as they often go unrecognized in our modern busy lives. While our sister planet Venus could be witnessed by a few of the audience because of its short window of visibility, the craters on the moon, the Galilean moons and bands on Jupiter, the mighty red Mars, and the rings of Saturn were experienced in full glory. Along with that various fun astronomy activities were conducted such as Weigh Yourself on Different Planets and Comet-Making Demonstration. The celestial objects which look like a shining dot to naked eyes, hold the massive universe in themselves and this event provided the rare opportunity for Delhites to meet the stars.
Team from SPACE India, National Science Centre (under Ministry of Culture) and Nehru Planetarium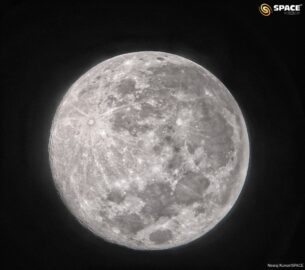 "People fail to realize that science, in its highest form, is no different than poetry. And as Carl Sagan said that astronomy is a humbling and character-building experience, with the same objective SPACE India aims at empowering life by developing this sense of ethereal connectedness with the cosmos. The event will include the observation of four majestic planets of our solar system  – Venus, Saturn, Jupiter, Mars, and the Moon on 6th- 8th January, India Gate, New Delhi. Such an astronomical event occurs rarely when one is able to see more than one planet simultaneously in almost the same region of the night sky. The objective of this event is to commemorate and celebrate the human quest for exploration and the influence of science fiction, art, and literature that has inspired generations to become space explorers and rocket scientists. And inspire people to look up and enjoy the stunning shows of the night skies!" remarked Mr. Sachin Bhambha, CMD, Space.  
SPACE is a pioneer organization with a legacy of 22 years in developing Astronomy, Space Science, and STEM education and experiences at the grassroots level and beyond. It is the world's largest Non-Government Organization that is popularizing Astronomy and Space-Science across Schools, Hotels, and Tourism industries. The organization has engaged 1M+ students and has inspired 1000+ schools so far through its products and services.