Learn Astronomy from the Pioneers!!!
Education and our night sky is never under lockdown!!
Online Astronomy Camp: Astronomy and Space Sciences are the most effective way to inculcate Scientific Temperament and make young minds learn science. So, here we introduce a well-knitted 10-day Astronomy program, with experts and leading astronomers & educators. A series of demonstrations, activities, do it yourself, fun worksheets, use of software and apps, quizzes and much more on our specially designed online platform!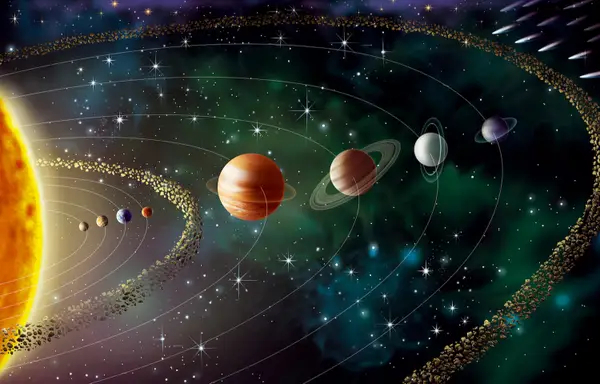 Starting from our own very Solar System, the kids are going to be introduced to the family of the Sun. From understanding their position to learning their features, the kids are going to meet all the members of the family – The Sun, Planets, Moons and Space Rocks (Comets, Asteroids and Meteoroids.)
Every family member has a special trait and in our Solar System family, Earth has the special trait of life on it. Out of the 8 planets in the Solar System, Earth is the only one where life can survive. So, in this session, kids will learn all about our planet such as age, distance from the Sun, about its satellite, the reason why life survives on it and many other complementing things.
Illuminating the night sky, the Moon has always managed to capture man's attention. This session aims to make the students understand about the moon, its features and that the apparent shape of the moon is not constant and keeps on changing followed by the names for different phases.
Directions is a key part of Astronomy and Space Sciences. In this session, students will get the sense of directions and will learn to find the cardinal directions using the movement of Sun and various other methods available. They will also learn about the common directions being used in our daily life. 
Since eternity humans have looked at the night sky and found wonders of the universe. As a beginner, they all observed the stars, planets and moon. By observing the sky, people made developmental changes in their lives and passed these to their generations. Each culture has their own version and stories. In this session, Kids will learn about these marvels and explore their telescopic view.
Astronauts have been an important part of Space Science Exploration. From performing experiments in the International Space Station to walking on the Moon, they have risked their lives for the betterment of science. So, during this session kids will learn about International Space Station, how Astronauts perform their daily tasks, importance of space suits and much more.
In this session, students will get to know about the different types of Space rocks i.e.
Comets, Asteroids and Meteors
, their residing places and features. They will get to know about the dangers that space rock may possess.
In this session, students will get to know about the parent star of our solar system. They will get to know about the importance of Sun in our daily life and its different features, properties and how we can observe the Sun safely. 
Satellites are an important component of communication, weather forecasting, internet and television infrastructure and have revolutionized the way of life on the planet . In this session, students will learn what satellites are, how they help us, parts of a satellite etc through various activities and demonstrations. 
Rockets are the vehicles that make space travel possible. Students will understand the reason why only rockets go to space. How does it go to space with simple examples of Action-Reaction principle, parts of rocket and see it in action in the form of simple rocket launches at home.