Education has been regarded as one of the basic needs of human beings, especially in the 21st century. While conventional education was and will always be the primordial mode of learning, the scientific developments and technological prowess of humans has made it inevitable to enhance this contemporary system. In recent times, the educational system in India has undergone a radical change and is still doing so, in response to adaptation of students in this fast-paced and dynamic world. Organizations and institutions all over the country have addressed this in various forms, and we, at
SPACE
, are not unaware of the same. In fact, our experience and advocacy of more than two decades has made us realize that astronomy is a field that has the potential to play a pivotal role in bringing such a radical change.
We often tend to neglect the relevance and the significance of the celestial objects that move around us every second of every day just because of our propensity to get consumed within our increasingly miniaturizing lifestyle. But all of those thoughts get reduced to mere atoms when we actually discern how miniscule and simple our problems are before this vast unfathomable scale of our universe. This realization gets dawned upon the mind of every person, be it a kid or an old adult, when he or she takes a peek through a telescope. When people feel the moon, the planets and the stars moving across the sky with their resplendent appearances while looking through a telescope, there is always an exhibition of awe and wonder on their faces coupled with a new perspective of their own lives in this universe.
In order to inculcate such an outlook in the minds of more and more people, we conduct a Monthly Telescope Observation at our office completely free of cost and open to all. What better time to provide such new thinking than childhood? Keeping this in mind, we conduct similar observations in schools as well as part of our different programmes. When we talk about astronomy, it is always synonymous with the night sky as that's when the universe shows its might and glory. Taking into consideration the hindrances caused by air and light pollution, we have set up specialised locations that are curated to deliver the finest astronomy experiences. We call these places Astroports, wherein one can experience an authentic darkness that takes one far closer to the celestial bodies than any other place. An amazing night under the stars with an extravagant look into the moon, planets and the Milky Way galaxy makes this experience memorable and life-changing for everyone. When school students participate in a trip to an Astroport, the experience is further augmented with rocketry and solar observation sessions as well as various adventure activities such as jungle safari, rock climbing, trekking and many more, thereby engendering a temperament of scientific exploration and teamwork.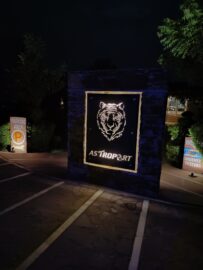 One of the key aspects of modern education is learning through experiences, and activities such as astronomy observation and astrotourism provide strong thrust to this philosophy. Experiences such as these help in shaping children into future leaders and explorers right from a tender age. If this new perspective is imbibed even by one child, it will be pronounced to his or her family members, who will further reverberate to their friends and colleagues, thereby leading to a cascade of change. All this will ultimately lead to a better and brighter future, not only for a nation but for the entire humanity.
Space Group | Education  | E-commerce | Astroport | Metaverse | Astrotourism | Foundation